Amazing Deals & Lease Specials On The All New Kia Stinger
Right now, qualified buyers can find MAJOR cash-back deals and super-low financing offers on the popular new Kia Stinger. If you don't want to buy the Kia Stinger outright, check out some of these attractive lease deals from your local dealerships. If you've been looking for the perfect vehicle to suit your needs for the finer things in life, these new deals on the best Kia Stinger models can make your dream a reality.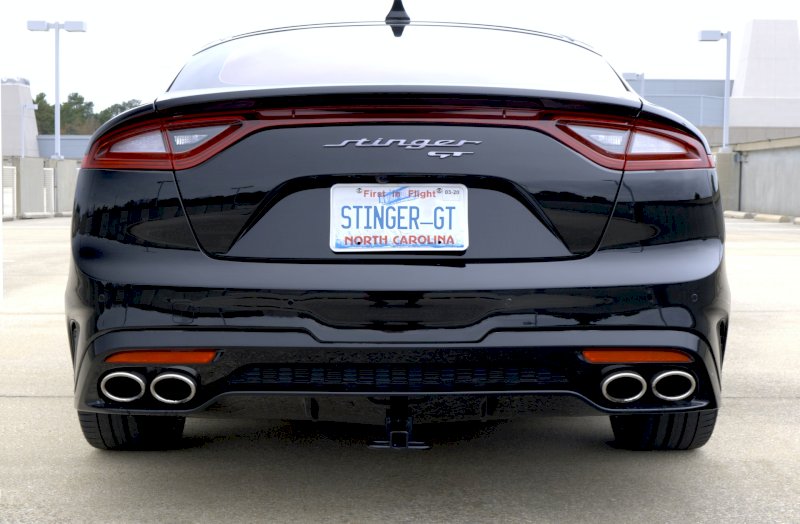 Top 10 Reasons to Buy a Kia Stinger
The Kia Stinger has been making a lot of noise lately. It's become one of the hottest sports sedans in America. Although European models such as the BMW 3-Series have traditionally dominated the segment, there's no overlooking the new Kia Stinger's strong value. You'll enjoy its great warranty package and entertaining level of performance. Sporty exterior styling also helps this sedan to measure up well against the competition. Let's find out if you should spend your money on the new Stinger.
1. Splendid Value With a Great Warranty
When stacked against today's other midsize sports sedans, the Kia Stinger proves to be a superior value. Every buyer will benefit from the Stinger's 100,000-mile powertrain warranty. Prices start at slightly more than $32,000 for the base model. You will also enjoy several standard features. Some of the key highlights include a touch-screen display with smartphone integration, satellite radio, leather upholstery, and parking sensors.
2. Fun, Practical Base Engine
While a more powerful engine is available, most drivers will find the base engine to be quite fun. This turbocharged four-cylinder develops an enjoyable 255 horsepower and 260 pound-feet of torque. When accelerating from a stop, the Kia Stinger can hit 60 mph in 6.1 seconds. Not only is the four-cylinder Stinger responsive, but it's also easy on gas. According to the latest EPA ratings, you can anticipate getting just shy of 30 mpg on the highway.
3. Good Automatic Transmission
In the past, automatic transmissions were not very fun. They tended to take away from a car's performance capabilities. The Stinger's eight-speed automatic proves that's no longer the case. Whether you're accelerating from a red light or casually cruising along the interstate, you'll always be in the ideal gear. Because the transmission is so precise, most drivers will never use its manual mode. Simply step on the accelerator and the Stinger responds immediately.
4. Exciting V6 Engine
The Stinger's turbocharged V6 engine is a must for true thrill seekers. Kia rates it to kick out a competitive 365 horsepower and 376 pound-feet of torque. It's power delivery is similar to that of a traditional V8 engine. With a 0-60 time of around 4.5 seconds, the V6-powered Stinger can easily keep pace with a Ford Mustang GT. While you can expect the more powerful Stinger to be less efficient, it's not terribly bad on gas. Drivers should be able to get up to 25 mpg on the open highway.
5. Drives Like a True Sports Sedan
When behind the wheel of the Kia Stinger, you're bound to crack a smile. It drives like a true sports sedan. Kia nearly perfected the Stinger's steering feel. Drivers will experience a solid connection to the road. Activating the sport mode gives you additional feedback. Even the base Stinger delivers tight handling on twisty roads. However, adaptive suspension dampers help the GT model to deliver an especially athletic performance.
6. Great-Looking Sports Sedan
The Kia Stinger is a work of art. A fastback roof and sculpted body lines help give it a remarkably sleek look. This dynamic sports sedan definitely causes people to turn their head. Dual chrome exhaust tips come standard. While the base Stinger is an eye-catcher, the GT model looks a bit angrier. It adorns a more aggressive front bumper and a flashier set of 19-inch performance wheels. Some of the available Stinger colors include HiChroma Red, Micro Blue, and Panthera Metal.
7. Practical Performance Car
If you don't want to sacrifice any practicality, the Kia Stinger deserves a serious look. It's airy cabin can accommodate a family of five. Power-adjustable sports seats help keep you snug on long drives. Drivers will also be intrigued by the Stinger's hatchback design. The extra cargo space makes the Stinger a great substitute for a two-door sports car. All-wheel drive and a hands-free trunk are optional.
8. Impressive Quality for the Price
Although the Kia Stinger may not have the status of a Mercedes-Benz sports sedan, it's overall quality is not too far behind. Car reviewers give the Stinger high marks for its overall fit and finish. There's definitely not a lot of wind noise entering the cabin. This is a testament to the car's impressive craftsmanship. Even the less expensive base Stinger has a leather-lined interior.
9. Advanced Safety Features
This year, all versions of the Stinger come standard with blind-spot detection. This feature gives you more assurance of busy highways. Standard rear cross-traffic alert also helps with parking. Upper trims benefit from a more advanced safety package, which comes with driving aids such as forward collision mitigation and adaptive cruise control.
10. Impressive Infotainment and Audio Systems
The Kia Stinger has a nice infotainment system. You can comfortably operate the interface without taking your eyes off the road. Its touch-screen display allows you to quickly select mobile apps. Music fans should also considering stepping up to the 15-speaker Harman Kardon sound system. Testers compliment the system on its great sound reproduction.